2018 Brags and Accomplishments
October 6th – Forbes walks Jake and I down the aisle!  I think these might be my most favourite photos of Forbes!
August 14th – Forbes wins Best of Opposite in Specialty Show at the Ontario Regional Specialty, under Judge Gordon Hayburn.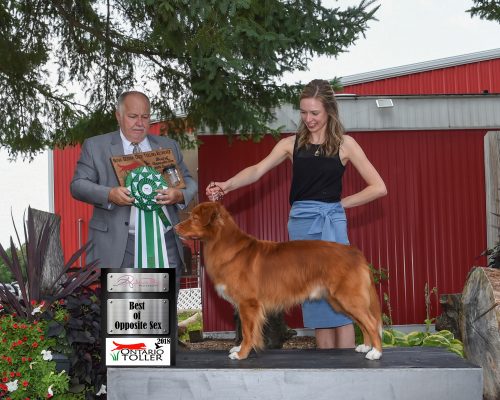 August – It is so great to have some of our Forbes' babies close by to watch them grow! From L to R – Cindel with Tycoon and Fiesta, Jake with Ricky (Forbes' daughter), Elissa with Forbes, Gillian and Jay with Poppy (Forbes' daughter, sibling to Ricky), and in the front Mr. Joey!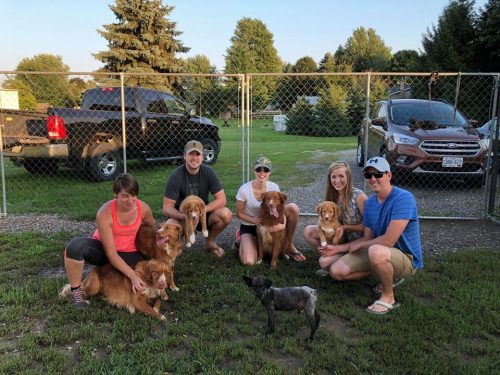 July – We are excited to expand our Dunfield family, and we welcome Cindel and Ricochet ("Ricky").  We couldn't ask for a better home for this beautiful Forbes x Token daughter and we can't wait to see what these two accomplish!  Ricky lives with Cindel, and is co-owned with us.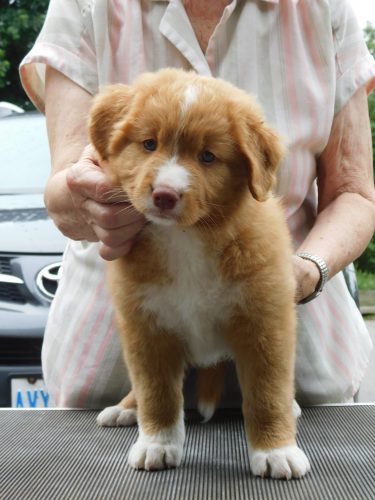 June 23/24th – Dunfield Tollers had a wonderful weekend at the CNY Twin Valley Cluster.  Miss Fergie finishes her American Championship in 3 straight shows, with 3-5 point majors.  The first day, she won Best of Breed over Specials, and made the cut in a competitive Sporting Group.  The other two days, she won Best of Winners.  We couldn't be more proud of our little spit-fire!  On Friday, Forbes won Best of Opposite to his daughter, and won Best of Breed the other two days (including the supported entry).